Longtime Toronto advocate offers insights to Etobicoke women's group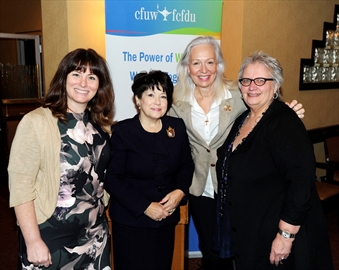 CFUW Etobicoke's Valentine's breakfast
Dan Pearce/Metroland
Lawyer Judith Wahl, past executive director of Advocacy Centre for the Elderly, (right) with Canadian Federation of University Women, Etobicoke president Halina Ostrovski, past president Gail Rutherford and Ernestine's Women's Shelter's Kathleen O'Gorman at CFUW Etobicoke's Stop the Violence Valentine's breakfast in support of Ernestine's.
Etobicoke Guardian
Elder abuse – it can happen to anyone.
Trust your instincts. Ask questions. Protect yourself, and help others.
Lawyer Judith Wahl shared that advice Monday, as well as insights from her nearly four-decade career, 32 years of it as executive director of downtown Toronto-based Advocacy Centre for the Elderly, Canada's first legal clinic for the elderly.
"It can happen to any one of us," Wahl told approximately 100 women during her Stop the Violence elder abuse talk at a Canadian Federation of University Women Etobicoke Valentine's breakfast in support of Ernestine's Women's Shelter in Etobicoke.
"Be informed. Ask questions. Don't hesitate to ask, 'why?' Bring issues to people who can affect change, like management in a care home. If something doesn't sound right or feel right, take the time to think about it, and ask questions."
During Wahl's ACE tenure, the community legal clinic for low-income seniors across Ontario has taken on cases, including:
·         Denial of government pension benefits or services
·         Poor care in long-term care homes or other seniors' residences
·         Inappropriate use of Power of Attorney given to a relative or friend
·         Money or property taken by someone in a position of trust or authority without consent
·         Refusal by a retirement home to allow a resident to return from hospital because they say a person needs too much care
Wahl, 64, who will retire this month, recalled ACE's first case soon after it opened in 1984. A woman called to ask about her power of attorney, which her son had promptly used to take all her money, and flee the province.
"'I don't want to collect the money from him. He's going to inherit from me, eventually,'" Wahl recalled the woman saying. "'It's my son. I don't want him to have problems with the police.' It was more important to her to keep her relationship with him. Anybody can be a victim of elder abuse."
Like many of ACE's clients, Wahl said, the woman did not want to proceed to court.
"People do a risk/benefit analysis and determine they have too much to lose," Wahl said.
Wahl urged people considering a power of attorney to give it only to someone they can trust.
"If you can't trust the person you're naming, why do a power of attorney at all?" she said. "If you do, review it every year. Think about whether your son or daughter will still do a good job. Sometimes, sons or daughters have gotten into financial difficulties, and they see mom's nest egg."
Elder abuse is defined as misuse of power and authority, Wahl said.
"Most elder abuse is by family members," Wahl added.
ACE deals with all forms of elder abuse, including sexual, physical and financial, Wahl said.
In Ontario, there is a mandatory legislative requirement for long-term care and retirement home staff to report any abuse related to poor care or financial abuse.
However, there is also voluntary reporting under Substitute Decision Maker legislation, which enables anyone to report their concerns about loved ones to the Ontario Public Guardian Trustee.
"The trustee has a duty to investigate allegations of a person who is incapable and at risk of serious harm," Wahl said.
CFUW Etobicoke and Ernestine's have a "long-term partnership," said Kathleen O'Gorman, Ernestine's manager of engagement and development.
"The women here are passionate about change, about the cause. It means a lot to us, and to our ability to understand the violence has to be interrupted. It takes a community, and community efforts, to interrupt the violence."
CFUW Etobicoke was established in 1952 with 10 members. Today, it has approximately 300 members, hosts speakers at its monthly meetings, and offers 44 interest groups.
The club supports Ernestine's, Women's Habitat shelter, Daily Bread Food bank, and other local agencies.
"We heard increasingly about older women seeking shelter. We always think of young women and children. We felt the need to explore this," said Gail Rutherford, CFUW Etobicoke past president.
CFUW Etobicoke also offers annual bursaries to the University of Toronto, York University, Ryerson University and the University of Guelph-Humber.
Minister of Seniors Affairs Dipika Damerla said she wants ageism to be a focus of her new ministry.
This year, there will be more Canadians over age 65 than children younger than 15 for the first time in Ontario and in Canada, the minister noted.
"There is an entire cohort of seniors living very healthy, vibrant lives," Damerla said. "The one thing I'm hearing from seniors is — 'what retirement? This is our second act. This is our third act.' There's a desire to continue to live lives full of dreams and goals, maybe different dreams and different goals now that they may not be chained to a 9 to 5 job."